Discover the Gilded Gold Mirrors & Pass mirrors of Baroque Mirror®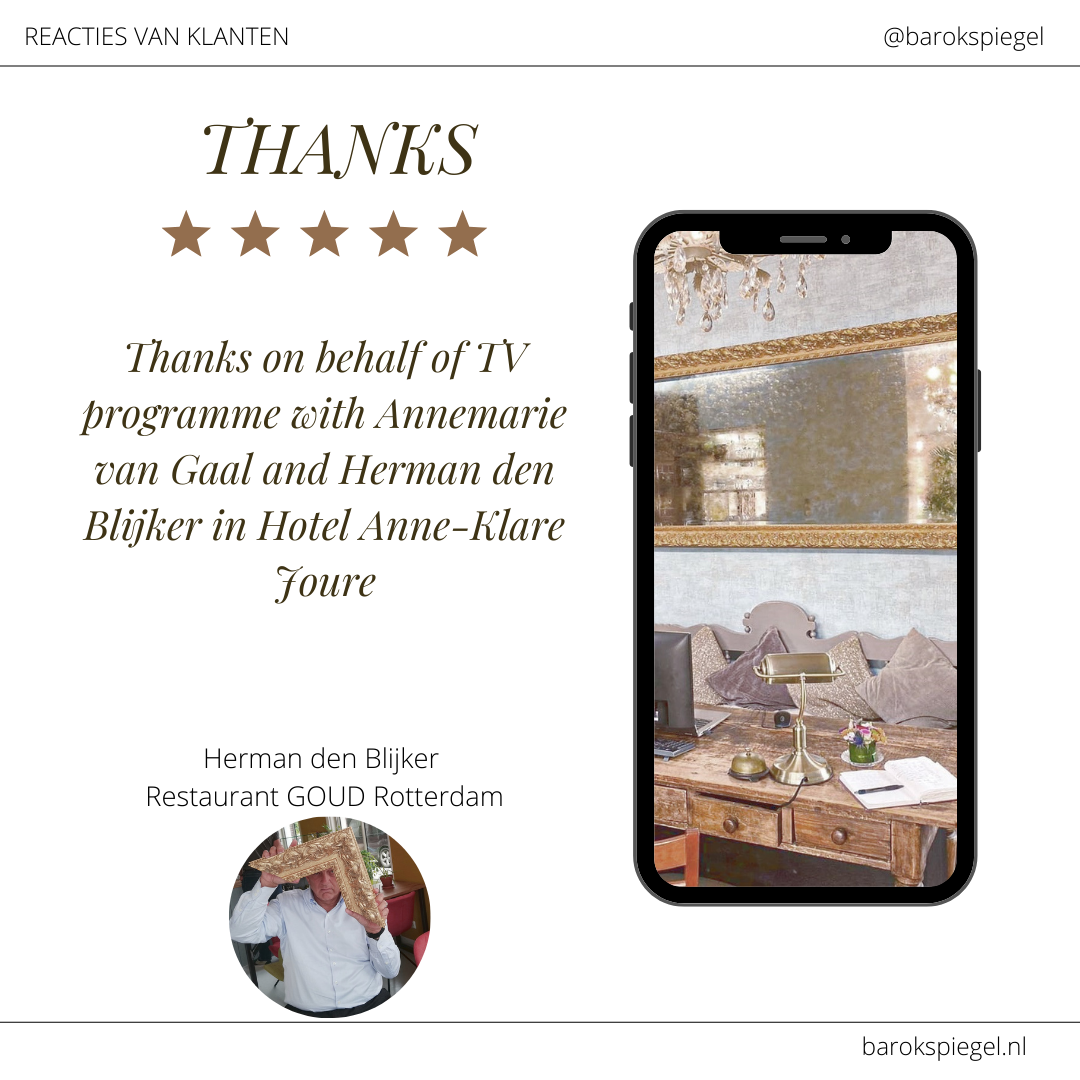 How are our gold mirrors colored?
All our gold mirrors are hand-colored in Europe (Italy or England) with gold leaf battle metal in our exclusive mirror workshops.
Due to this each gold mirror is unique and exclusive and can only be ordered at barokspiegel.nl.
A nice gold mirror frame is colored with gold leaf percussion metal. Because this is done with thin sheets you can see the craft and it gives the gold mirror frame extra character and value.
The gold color is the pure gold leaf without any processing.
Antique gold is colored with gold leaf tusk metal, then patinated for an antique look.
The gold differences
Per mirror and supplier the color gold can differ.
At barokspiegel.nl all mirrors are made and coloured in Europe in an authentic way with gold leaf battering metal!
What are the differences in the color gold with the competitor?
Cheap mirrors will be sprayed gold, with saw lists the gold is often a machine film layer.
Authentic mirror frames are always colored with gold leaf battle metal.
Unless it comes from the far east (China), then it is mass production and that has nothing to do with authentic anymore either.
Why a gold mirror?
The color gold stands for luxury, brilliance, wealth, glamor and gives warmth to your interior. 
A mirror frame in the color gold is a true classic and can be combined very well with different interior design styles, modern mirrors, classic mirrors, baroque mirrors and more.
Gold is timeless, 
The choice is therefore mostly up to your personal taste and the interior.
Need more advice? Contact our mirror stylist for free advice.
Golden crested mirror
Tinted mirrors in the color gold are often used above a fireplace. In our range we also offer a large golden crested mirror of 2 meters high! Wonderful to use in the hall-bedroom-dressing room as a fitting mirror or in old houses as a mantelpiece with mega high ceilings.
Gold mirror round or oval
A large oval design mirror of 120 cm with a wide golden edge? We have that in our range as well! You can even choose the color gold or antique gold because the mirror is specially made and colored for you in our mirror atelier in Italy. 
Check out our range of round and oval gold mirrors here.
Large gold mirror
We love large gold mirrors with a striking wide baroque frame. Because we are producers ourselves we design unique gold mirrors that are handmade and hand-colored in Italy.
Gold mirrors of 150, 180, 200 to 235 meters. Different gold coloring techniques are applied with gold leaf battle metal, patina, rotten Stone but also multi-colored hand-colored mirror frames.
Why buy a gold mirror at Barokspiegel.nl
100% made in Europe (Italy and England)
Miralite pure mirror glass (extra clear, without lead and copper, 30% recycled, 1035 standard)
Large mirrors, extra thick and safe glass
Suspension brackets mounted horizontally and vertically
2 years guarantee
Unique and exclusive range
High quality materials
Handcrafted from own production
Fair price no costs to wholesaler or importerNeed help choosing a gold wall, floor or mirror?
We are here for you with practical tips, technical assistance and free styling advice.