Discover the Venetian Mirrors from Baroque Mirror®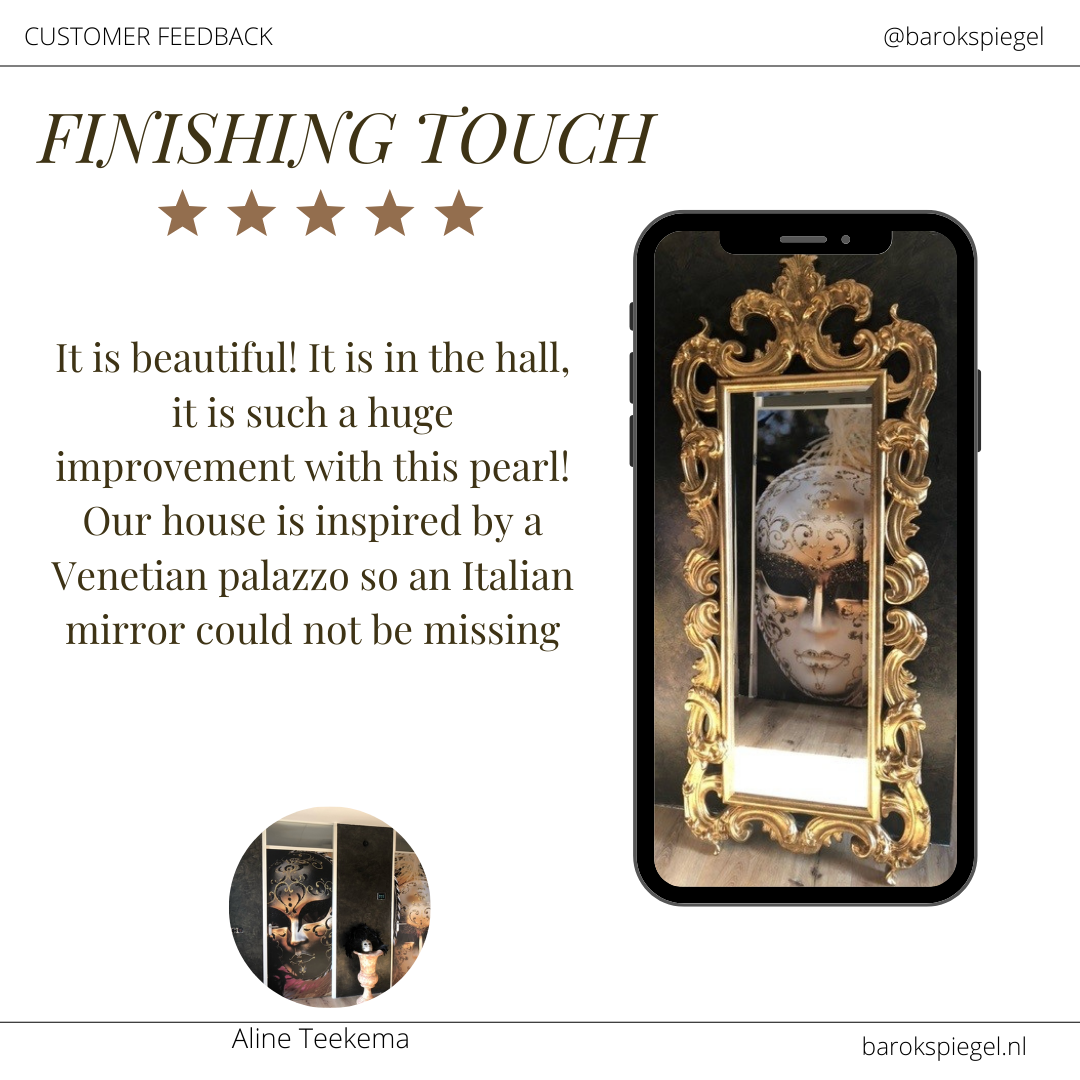 Beautiful Italian mirrors!
Milano chic
Discover Venetian mirrors with their beautiful authentic handcraft and timeless look.
With the natural finish, each mirror has its own character.
The Italian collection of mirrors is sustainable, affordable, innovative, artisanal and crystal clear!
Experience the handcraft....
Since 1940, the DiBiase family has been producing Venetian mirrors authentically and with great success. Continuing the success, the 3rd generation is now active in the company.
All mirrors are made with respect for tradition and an eye for detail, based on simplicity and as many pure materials as possible.
The different mirror styles, designed by DiBiase but also a unique range of mirrors designed by DeZwart Mirors are made in the heart of Northern Italy.
The mirrors range from modern mirrors, based on clean lines, crested mirrors and decorative mirrors that are traditionally coloured but innovatively made of wood.
Round and oval mirrors made of solid wood with an unique hanging system in the frame.
All of these mirrors are unique works of art.

How our Italian mirrors are made
There is a substantial difference in the making and colouring process.
In the traditional way each mirror is made individually. A straight mirror edge, an edge with ornaments, a crest, everything is handmade.
Also all shape mirrors and ornamental mirrors are made of wood.
When the mirror frame is ready, it is hand-coloured with gold leaf or silver leaf, after which various finishing by hand can take place, such as patinating, rotting stone, lacquering etc.
This ensures that the mitre-edge is beautifully finished.
This is still unique!
Elsewhere, long bars are made, mechanically and usually coloured by machine, the long lengths are completely finished and are sawn mitre to the desired size and assembled with staples.
This is called handiwork, but it is a completely different production process and not comparable.
The only manual work is assisting the machine with the mitre sawing and the clamping.
The result is a successful harmony between ancient elements and contemporary comfort and pleasure. 


The widest choice of sizes of Italian mirrors
Venetian mirrors in standard size or made to measure
Small Venetian mirrors of 30cm, 40cm, 50cm, 60cm
Oval Venetian mirrors from 60cm to 120cm with a wide or narrow edge. For example, the oval mirror Oriana

Venetian wall mirrors from 70cm, 80cm, 90cm to 180cm.

Italian fitting mirror, long, narrow and high from 40cm, 50cm 60cm to 180cm, 200cm, 210cm, 220cm, 230cm.

Italian crested mirrors small and large up to 75cm

Large Italian mirrors with a maximum size of 170cm x 230cm. For example modern mirror 
We offer 15 standard sizes of mirrors. 30x40 cm, 30x120 cm, 30x150 cm 40x50 cm, 50x60 cm 50x75 cm, 60x90 cm, 60x120 cm, 60x150 cm, 60x180 cm 75x100 cm, 80x180 cm 90x120 cm, 90x150 cm, 100x200 cm. The outer size of the mirror edge depends on the frame width, we have frames in wide and narrow format.
Why buy a Venetian mirror at Barokspiegel.nl
100% made in the mirror workshop Di Biase Cornici in Northern Italy
Miralite pure mirror glass (extra clear, without lead and copper, 30% recycled, 1035 standard)
Large mirrors, extra thick and safe glass
Suspension brackets mounted horizontally and vertically
2 years guarantee
Unique and exclusive range
High quality materials
Handcrafted from own production
Fair price, no charges to wholesaler or importer
Need help choosing a Venetian mirror?
We are here for you with practical tips, technical assistance and free styling advice.