Discover Baroque Design Mirrors from Baroque Mirror®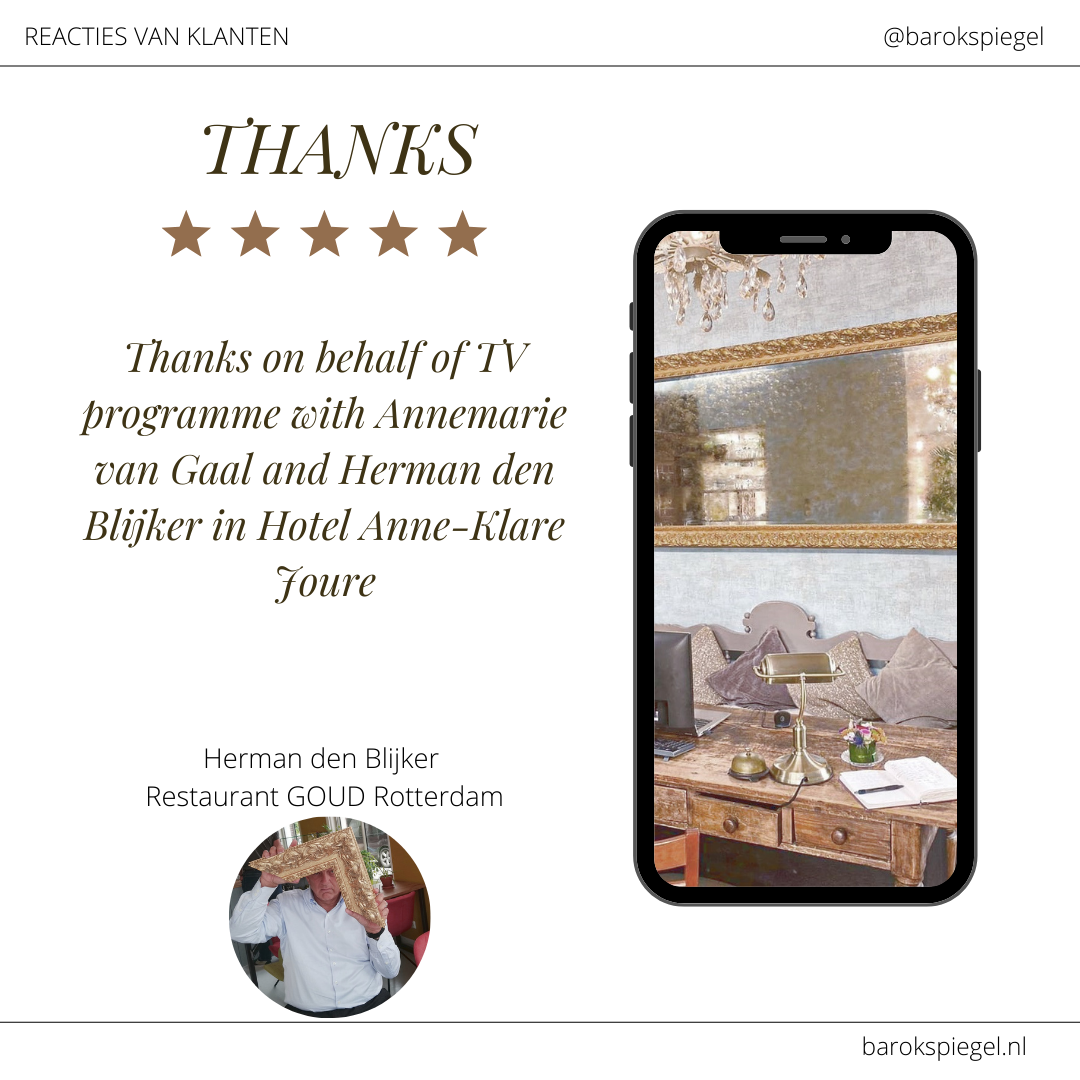 French élégance, English cottage, Milano chic
Our beautiful collection of baroque mirrors with rustic flair and a timeless look.
Each one is handcrafted with natural materials and a naturally held finish.
The beautiful handcraft gives each mirror its own character.
Which baroque mirror will you choose, the French elegance, the English cottage or for the chic Milano?
The baroque mirrors of DeZwart mirrors
When you see a DeZwart Mirror, you notice that in this exclusive collection the modern style is perfectly combined with various classical style elements, without any loss of the atmosphere of yesteryear.
These are baroque mirrors that are still authentically colored in Italy, but also where the authentic craft meets a modern jacket.
A great deal of care is taken with the finish and use is made of sustainable, high-quality materials.
All used materials are carefully selected: the wood, the mirror glass but also the screws and mounting brackets.
Barokspiegel.nl delivers a completely finished mirror where the brackets are already mounted. We also arrange delivery. The only thing you have to do is hang up the mirror.
Baroque mirrors in many colors and sizes
Silver baroque mirrors
Gold baroque mirrors
Black baroque mirrors
White baroque mirrors
Venetian baroque mirror in the colors: gold, antique gold, bright silver, silver, antique silver, matte black, high gloss black, matte white and high gloss white.

The wide choice of many colors, sizes, shapes and styles ensures that you will find a mirror to your liking at barokspiegel.nl. 
Baroque dressing mirror
We also offer a large assortment of baroque mirrors, narrow high baroque mirrors, wide high baroque mirrors and custom baroque mirrors.
Custom made baroque mirror
Do you prefer a custom made baroque mirror? Come visit us in our mirror workshop with a large custom made choice in our frame shop (more than 600 frame angles) Or look online at our custom baroque mirrors.
Baroque mirrors for each interior
A baroque mirror is probably the best-selling mirror style in any home.
A baroque mirror is often placed on the fireplace in the living room, but in the hall, bedroom, bathroom or dressing room a baroque mirror also gives a striking atmosphere.
If you want a luxurious atmosphere, look for an oversized or large baroque pass mirror.
Do you want a rural atmosphere, look for a baroque or brocante mirror with specially processed coloring, such as burned black or shabby white.
If you want a romantic or classic atmosphere, look for a baroque mirror with a crest or arch.
With a baroque mirror you make your interior complete!
The largest choice of baroque mirrors
The range is very wide, over 10,000 mirrors divided into more than 300 mirror models that per model on average are available in 10 sizes and 6 colors!
Exclusive baroque mirror
In the middle of Northern Italy at the family business DiBiase, we produce our extremely beautiful baroque mirrors in an authentic way. Truly special and unique thanks to the luxurious, high quality finish.
They do this exclusively for Barokspiegel.nl and in the Netherlands, Belgium and Germany, the mirrors are only available at Barokspiegel.
Why buy a baroque mirror at Barokspiegel.nl
100% made in Europe (Italy and England)
Miralite pure mirror glass (extra clear, without lead and copper, 30% recycled, 1035 standard)
Large mirrors, extra thick glass and safe glass
Suspension brackets mounted horizontally and vertically
Free specialist transport in NL (BE a small shipping contribution)
2 years guarantee
Unique and exclusive range
High quality materials
Handcrafted from own production
Fair price no costs to wholesaler or importer
Need help choosing a baroque wall, floor or floor mirror?
We are here for you with practical tips, technical assistance and free styling advice.

*** Translated with www.DeepL.com/Translator  ***