Discover the Classic Mirrors from Baroque Mirror®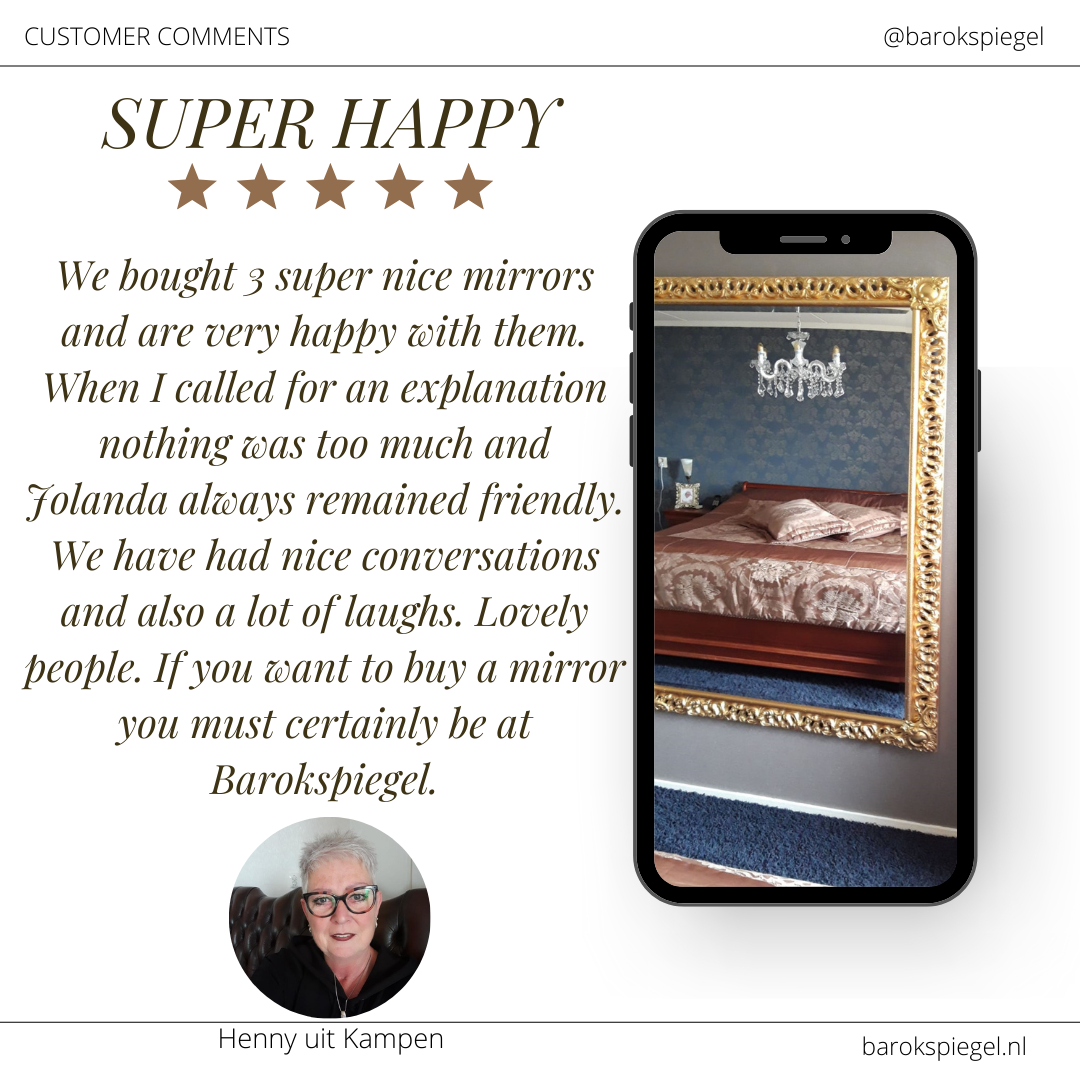 Opulent classic
Magnificent mirrors that emphasise the richness of the classic interior.
Timeless mirrors with luxury, elegance and a high glamour content.
Order your classic mirror online with free delivery in the Netherlands!
Classic mirror with a beautifully finished frame. All classic wall mirrors are available in small and large format in the colours black, white, (antique) silver, gold
Classic mirrors 100% made in Europe

Timeless and popular
Classic mirrors will survive any trend and style period because classic mirrors are timeless and popular.
A classic mirror can also be perfectly combined with other living styles.
Durable classic mirrors
Our mirror frames but also the mirror glass is 100% made in Europe!
The glass is Miralite pure and is made in France.
The glass is +30% recycled, produced without lead and copper, with beveled edges, extra clear and meets EN 1036 standards.
Classic mirror
A large floor mirror fits perfectly into the classic interior style. The elegant details give a feeling of luxury that fits well with many styles of living. 
Classic modern mirror
We also offer a range of classic mirrors with a modern look.
A subtle pearl border or a subtle ornament decorates the edge of the sleek or beautifully shaped mirror frame.
The modern and classic elements blend well together and are tastefully finished.
Classic baroque mirrors
You will also find many classic baroque style mirrors in our mirror shop.
The antiques of the future
Because our classic mirrors are authentically made and coloured with durable materials, the value remains or increases.
The word antique translates old art, ornaments and utensils, a classic mirror certainly belongs here provided it has reached an age of x.
The most important thing to obtain the status of antique is that the object is an authentic representative of the period from which it originates, these key words are for our mirrors authentic and durable.
Need help choosing a classic mirror?
We are at your service with practical tips, technical assistance and free styling advice.