Discover the Design Mirrors from Barokspiegel®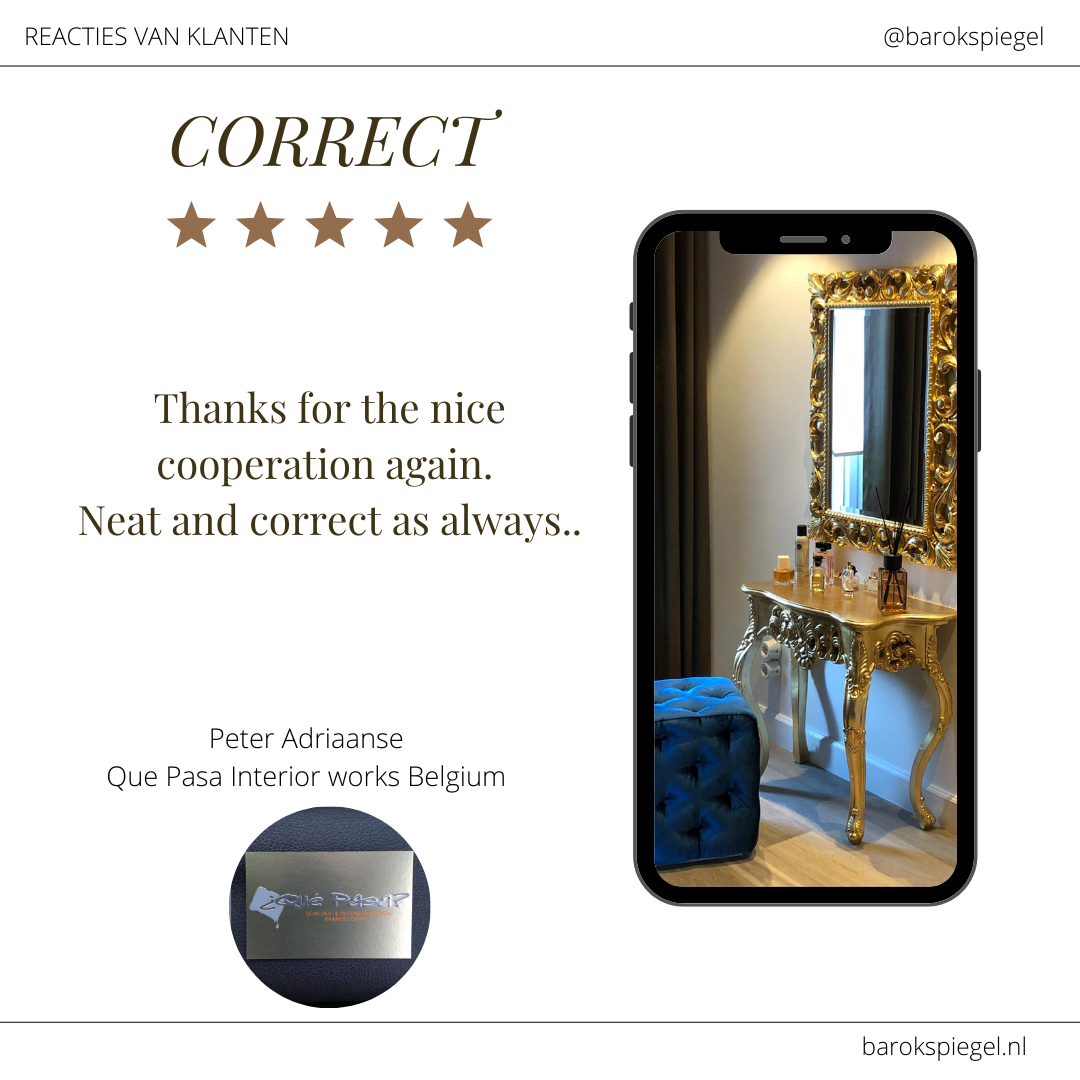 The widest choice of sizes of Design Mirrors
Design mirrors in standard size or made to measure
Small design mirrors from 30cm, 40cm, 50cm, 60cm
Oval design mirrors from 60cm to 85cm with a wide or narrow edge.
Design wall mirrors from 70cm, 80cm, 90cm to 180cm.
Design wall mirrors long, narrow and high from 40cm, 50cm 60cm to 180cm, 200cm, 210cm, 220cm, 230cm.
Design crest mirrors small and large up to 75cm 
Large design mirrors with a maximum size of 170cm x 230cm. 
We offer 15 standard sizes of mirrors. 30x40 cm, 30x120 cm, 30x150 cm 40x50 cm, 50x60 cm 50x75 cm, 60x90 cm, 60x120 cm, 60x150 cm, 60x180 cm 75x100 cm, 80x180 cm 90x120 cm, 90x150 cm, 100x200 cm. The outer size of the mirror edge depends on the frame width, we have frames in wide and narrow format.
Why buy a design mirror at Barokspiegel.nl
100% made in Europe (Italy and England)
Miralite pure mirror glass (extra clear, without lead and copper, 30% recycled, 1035 standard)
Large mirrors, extra thick and safe glass
Suspension brackets mounted horizontally and vertically
Free specialist transport in NL (BE a small shipping contribution)
2 years guarantee
Unique and exclusive range
High quality materials
Handcrafted from own production
Fair price no costs to wholesaler or importer
Need help choosing an industrial wall, floor or fitting mirror?
We are here for you with practical tips, technical assistance and free styling advice.
Translated with www.DeepL.com/Translator