Discover the collection of Black Mirrors from Baroque Mirror®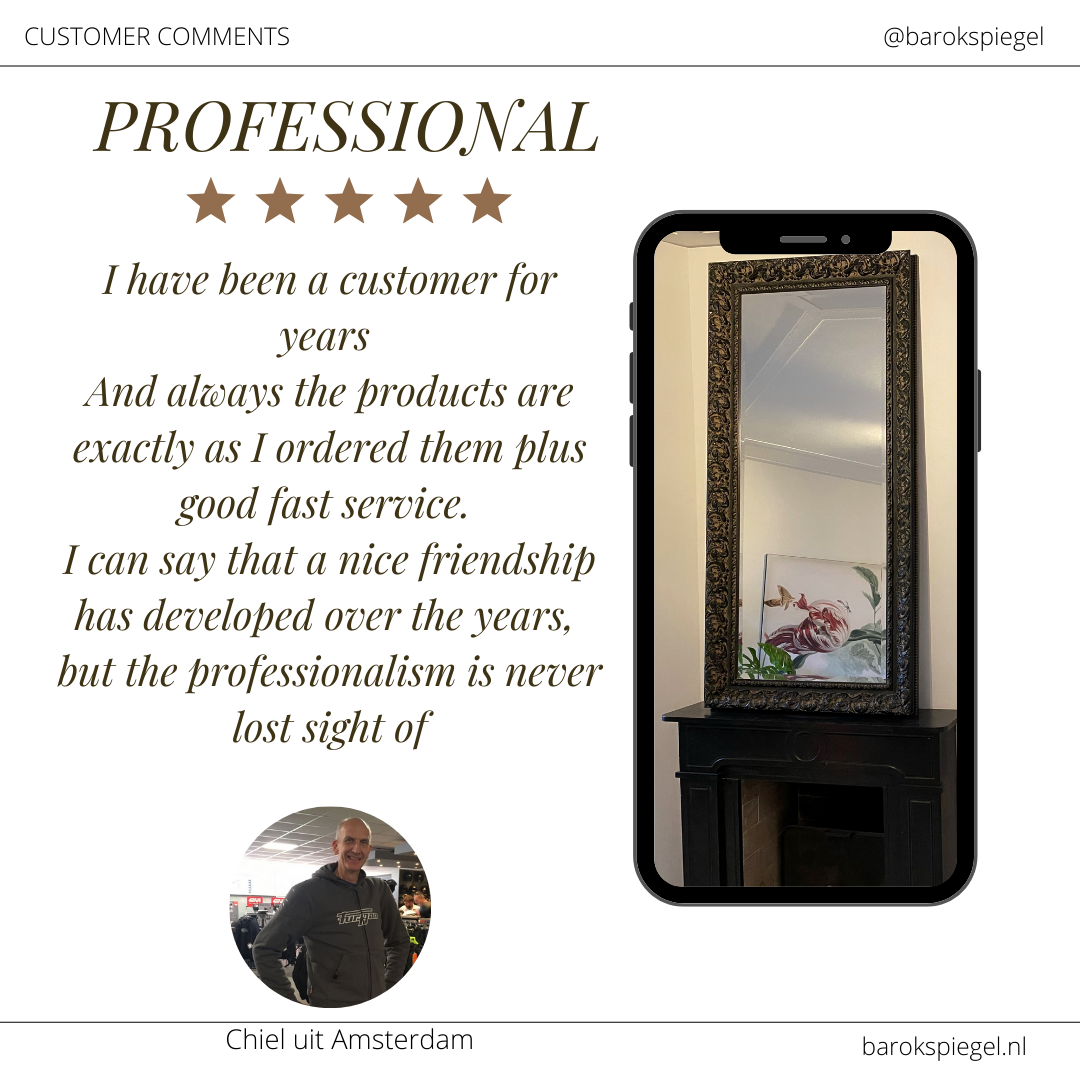 Large black mirror or full length mirror
Black is back!
A unique collection of black mirrors, black crest mirrors, black round or oval mirrors, black rectangular mirrors. Custom mirrors in the color black are also possible!
Immediately upon browsing our mirror store you will be introduced to beautiful large black mirrors with all its grandeur!
Black mirrors are fully embraced again in the interior styling of our time.
The words that best describe large black mirrors are imposing, luxurious and allure.
Only high quality and durable materials are used, whose character and black color determine the subdued and timeless atmosphere.
A large black mirror or full length mirror comes in many different styles, modern mirrors, classic mirrors, baroque mirrors and more.
The choice is therefore mostly up to your personal taste and the interior.
Need more advice? You can contact our mirror stylist for free.
Black crested mirror
Tinted mirrors in the color black are often used above a fireplace. In our range we also offer a large black crested mirror of 2 meters high! Beautiful to use in the hall-bedroom-dressing room as a fitting mirror or in old houses as a mantelpiece with mega high ceilings.
Black mirror round or oval
A large oval design mirror of 120 cm with a wide black edge? We have that in our range as well! You can even choose from the color matte black or high gloss black because the mirror is specially made and colored for you in our mirror atelier in Italy. 
Check out our range of round and oval black mirrors here.
Why buy a black mirror at Barokspiegel.nl
100% made in Europe (Italy and England)
Miralite pure mirror glass (extra clear, without lead and copper, 30% recycled, 1035 standard)
Large mirrors, extra thick and safe glass
Suspension brackets mounted horizontally and vertically
2 years guarantee
Unique and exclusive range
High quality materials
Handcrafted from own production
Fair price no costs to wholesaler or importer
Need help choosing a black wall, floor or mirror?
We are here for you with practical tips, technical assistance and free styling advice.